Cut-through Traffic Mitigation for Blair Hills
Jon Melvin, 8/6/2016
Assertion
Only closing off an entrance or exit will actually stop cut-through.  Other options will probably make no difference.
Questions
Are we allowed to close an entrance or exit?
Which one (exit to La Cienega preferred)?
Do we want to do this (it will inconvenience us)?
Planned meeting with Police and Fire to discuss option of closing off an entrance/exit
Thursday, 8/11, 10AM, City Hall in the Gable Room – PLEASE COME WITH ME IF YOU CAN (Jon Melvin)
Jon's communications with Gabe Garcia, Culver City, at the beginning of 2016
From: Jon Melvin
Sent: Wednesday, January 13, 2016 9:22 AM
To: Gabe Garcia <gabe.garcia@culvercity.org> <gabe.garcia@culvercity.org>
Cc: 'GeneAnn' <ewilson001@ca.rr.com>; 'Kerri Payne-Lue' <kpaynel@msn.com>
Subject: traffic through Blair Hills
We have an impossible problem with evening cut-through traffic – 2 to 3 hours of continuous cars, almost none stopping at the stop sign, people honking and going around on the right (yes!) when someone does stop, many close calls. With Waze now digitally informing people that this cut-through is a time saver, we now have no recourse of the kind we discussed years ago (changing the route through Blair Hills or improving the speed bumps) that would make any difference at all.
I sent out an email to the community about a drastic solution of closing off the entrance to Blair Hills at Lenawee permanently, or perhaps even better exit at La Cienega. There is a lot of consensus: I have received 51 emails about it in the last 48 hours alone. We need to find out what can be done before there is some kind of disaster.
Other suggestions (I don't know if possible) consist of gates that close certain hours (although people crash them unless they are posts rising out of the street), a guard booth, restriction of turns (probably useless), a LOT of police enforcement, a light that turns from blinking to red during evening hours and is long (it must compete with the many minutes to turn at La Cienega or Waze will still tell people to come through the neighborhood), a red light camera,
etc. I can supply all the emails to you.
Thank you so much.
Jon Melvin
310 386 6905 (cell)
jonm@vi-i.com (email)
From: Jon Melvin
Sent: Wednesday, January 13, 2016 1:05 PM
To: Gabe Garcia <gabe.garcia@culvercity.org> <gabe.garcia@culvercity.org>
Subject: light timing solution to Blair Hills cut-through traffic problem
Traffic problems in Blair Hills:
<![if !vml]>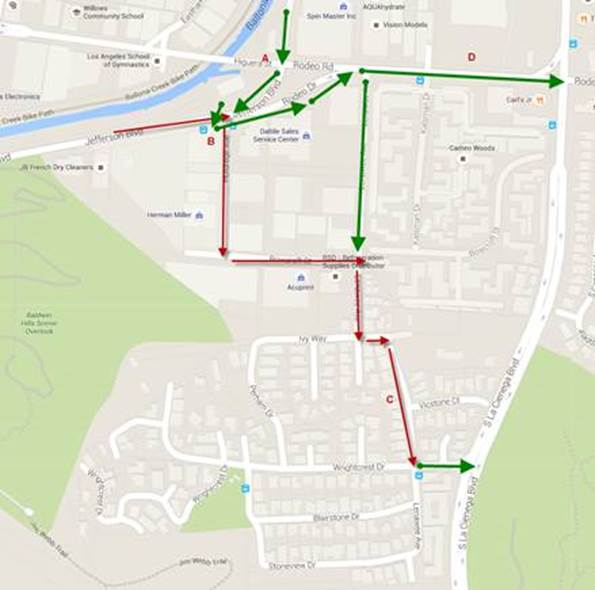 <![endif]>
Red (and green) arrows show where is continuous stream of cars is now cutting through Blair Hills every evening (5-7:30PM approx.). They come east or south (A) on Jefferson, often make illegal U turns at B or even farther east of B along Jefferson, enter the industrial area at B, then come into Blair Hills, and come along C blocking ingress and egress from homes along C for extended periods of time (at times honking at or passing people on the right (!) who are trying to get into their homes. The problem is the intersection at Rodeo Road and La Cienega. With technologies such as Waze, people are now directed through our neighborhood.
The solution the neighborhood is seriously considering is requesting blocking exit onto La Cienega at Wrightcrest (green arrow, bottom right). We are convinced that traffic calming measures (such as our existing speedbumps and striping, and suggested additional measures) will have no effect whatsoever.
The real solution is to fix the intersection at Rodeo and La Cienega. The following change in light timing should work:
When the light at Holdridge and Jefferson (B) turns green, the light at La Cienega should turn green AND STAY GREEN UNTIL ALL TRAFFIC IN THIS SEGMENT CLEARS.
To avoid the dangerous illegal U turns going on at B, when the light at A turns green for left turns, the light at Rodeo and La Cienega should turn green. These two lights should stay green until all southbound traffic on Jefferson which is trying to turn left at Rodeo road clears and has moved across the intersection at
La Cienega. In addition to making sure that traffic moves through, it would prevent any buildup of cars between B and D. This build up is what causes cars to enter the Blair Hills neighborhood on either Holdridge or Lenawee. It would also solve the problem from jam ups when people turn into or out of Target at D.
The light timing would require sensors to tell the system when the critical blocks of traffic fully clear, otherwise this system would not work. Tackling the problem at Rodeo and La Cienega is the only real solution. Blocking access through Blair
Hills would only exacerbate the problem for people traveling through the Rodeo/
La Cienega right turn area.
Jon Melvin
From: Jon Melvin
Sent: Thursday, January 14, 2016 8:04 AM
To: Gabe Garcia <gabe.garcia@culvercity.org> <gabe.garcia@culvercity.org>
Subject: more on Blair Hills traffic - possible root causes of jam-up at Rodeo and La Cienega
More on Blair Hills traffic - possible root causes of jam-up at Rodeo and La Cienega:
I was out and about the last two evenings. The traffic patterns of the entire area need study. La Cienega and Rodeo was less congested yesterday and there was less problem in Blair Hills (direct effect). The congestion at La Cienega and Rodeo is partly because a lot of traffic comes down from National on Jefferson or through the Hayden tract on Higuera and then feeds into eastbound traffic on Rodeo, in addition to the eastbound traffic on Jefferson.
These feeds are, perhaps, due to the intersection at Jefferson and La Cienega. It takes 15 minutes to drive the one eastbound block there and then turn on La Cienega. If that were fixed (again with much longer light times and fixing the congestion on La Cienega north of that which blocks left turn people), the problem at La Cienega and Rodeo might be greatly diminished.
With the very large development planned for La Cienega north of the train crossing, I would think it is urgent to address these patterns now. That is one reason we are concerned in Blair Hills – that our really bad problem might actually get worse.
A rough guess on traffic counts is that we get 1000 to 3000 (depending on congestion in the area) cut through cars between 4 and 7:30. Last night my estimated count was 200 to 300 per hour starting as early as 4PM. At 6 or 7 it varies a lot, peaking at perhaps 1000 cars per hour (the maximum possible that can move through Lenawee, I believe).
SEE MAP BELOW.
<![if !supportLists]>· <![endif]>RED ARROWS ARE ROUTES WITH HUGE DELAYS.
<![if !supportLists]>· <![endif]>GREEN ARROWS ARE PART OF WHAT PEOPLE ARE PROBABLY DOING INSTEAD
<![if !supportLists]>· <![endif]>PURPLE ARROWS ARE WHAT THE AREA WAS DESINGED FOR INSTEAD OF THE CUT-THROUGH (bottom green arrow) IN BLAIR HILLS, BUT BECAUSE PEOPLE ARE USING THE ALTERNATE (other green arrow) ROUTES TO AVOID THE RED ROUTES, THERE IS PILE-UP AT RODEO AND LA CIENEGA
WHICH ENCOURAGES THE CUT-THROUGH.
<![if !vml]>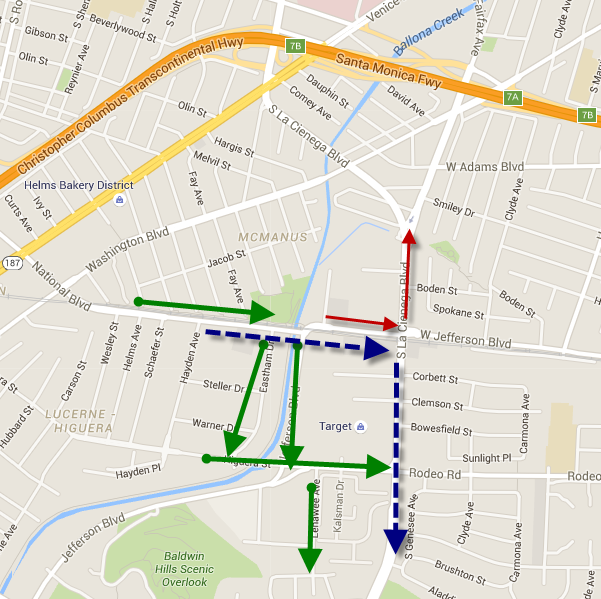 <![endif]>