THE VIEW FROM BLAIR HILLS
The Blair Hills Association April, 2007 Edited by Bobbi Gold
BLAIR HILLS ASSOCIATION GENERAL MEETING
Wednesday, April 25, 200, 7:00 PM
Ohr Eliyahu Academy
5950 Stoneview Drive
Agenda:
1. Traffic report from Gabe Garcia, Culver City (see below)
2. Discussion of traffic mitigation that we could support (come ready to participate!)
3. Proposed new BHA officers
4. Further plans for detailed neighborhood disaster preparation – we need volunteers ready to learn about how to coordinate our search and rescue, fire suppression, triage and first aid, communication, transportation, and supplies efforts in case of disaster (see article on CERT below).
We expect an extensive presentation by Gabe Garcia about the traffic problems on Lenawee during evening rush hour, the studies conducted by the City, what the data mean, possible mitigation measures and their pros and cons. We will break into small groups for further input, dialog and (hopefully) consensus, to be shared with the entire group and with Gabe. The aim is to work toward solutions which the community can agree upon as acceptable. Since it is likely that Blair Hills residents will experience some inconvenience from any solution that really deters cut-through traffic, we need a thorough neighborhood dialog. Be there!
Community Emergency Response Team (CERT)
by Jon Melvin, BHA co-president
Culver City's CERT program (training of community members to be ready to help in a disaster) is an excellent program. We need more Blair Hills residents to learn about coordinating volunteers, search and rescue, help with medical problems, and communication. So I'd like to have some additional neighborhood meetings focused on what we will do during a disaster (as opposed to how to prepare before hand). If you're willing to help out, please email or call me.
Since CERT is a Fire Department program, anyone trained in CERT actually has fire department medical coverage when called out to help in a disaster. In the Mexico City earthquake some years back, untrained volunteers came out in great numbers to help after the quake; they did save 1100 people, but in the process, 200 volunteers were killed. CERT was created to give potential volunteers proper training on how to be safe when helping. Learn more about CERT at http://www.culvercitycert.org/.
Pouring Oil On Troubled Neighbors: The Oil Drilling Controversy
You may be aware of some kind of controversy regarding planned drilling for oil in the adjacent oil fields. Here is a very brief synopsis of the issues.
Over a year ago, Culver Crest area residents were awakened in the middle of the night by a stench emanating from the oil field operations.
Now, the operator, Plains Exploration and Production (PXP), a Texas Company, proposes to drill 28 new wells in the oil fields which are close to Culver Crest, Blair Hills and Ladera Heights. These neighborhoods as well as the City of Culver City are upset for the following reasons:
1. There was no timely notification of any of these parties. The public comment period was over before Blair Hills found out about it. The City of Culver City and the Crest association did learn of it in time to take legal action. Also, the project documents posted on the State agency's website did not contain a map of proposed drilling locations that anyone outside of PXP could understand.
2. No Environmental Impact Report (EIR) was done.
3. The Wave newspaper and the Culver City News both reported on March 29 that the State employee who was responsible for granting the drilling permits had financial ties to PXP and several other oil companies and had accelerated the permits.
So what will happen? County Supervisor Yvonne Burke vowed that no drilling will take place before a full EIR is done and taken into consideration. That in fact will happen, and the wheels of government have begun grinding in that direction. Item #3 above is still being investigated. Among the possible negative effects drilling might have on Blair Hills are noise, odors, and views of ugly drilling equipment.
continued
At my request, Steve Rusch of PXP sent me a map of the proposed drilling location that ordinary people can read. It's posted on the Blair Hills website at http://www.blairhills.org/images/pxp.pdf . This is a PDF file which you can read with the free Adobe Acrobat reader. The red cross-hatching on the map indicates the "Culver City Viewshed".
Baldwin Hills Scenic Overlook Emerging
A 58-acre hilltop parcel currently under construction will reopen to the public next fall as a state park with hiking trails, restored native vegetation, and a 10,000-square foot visitor center shown in the artist's conception below:
<![if !vml]>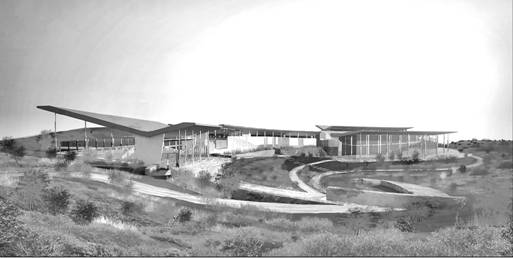 <![endif]>
Grading for an exclusive residential community had already begun on the site when the parcel was rescued by the State for $41 million in December, 2000. In 2003, a community advisory committee and two public workshops provided input for the uses and design of the park. Detailed plans were developed by architects, landscape architects, engineers, and other professional services. A major goal is to create an innovative visitor/education facility with creative interpretive and educational components:
· A visitor center with exhibits, staff offices, a multimedia theater, an outdoor plaza and food service ; it will be near the crest of the hill but not at the top, so as not to spoil views of the park from below;
· Parking for 91 cars compliant with handicapped access requirements;
· Hiking trails with other interpretive features;
· Restoration of the native coastal sage scrub habitat, which will attract native birds, insects and other animals that used to live in the area but may no longer be present or are greatly reduced in numbers;
· Magnificent panoramic views from the summit, extending on clear days beyond downtown to the San Gabriel Mountains, the Hollywood Hills and the Hollywood sign, Kenneth Hahn State Recreation Area (KHSRA) across La Cienega Blvd., and, to the west, Santa Monica Bay.
In this first phase, only a small portion of the 58 acres is being restored and built now, using $6.9 million of Proposition 40 funds. Installing drainage pipes and tying in with existing off-site sanitary sewers and stormwater channels was part of the construction, as was improving Hetzler Road (the main entrance). Enhancing other portions of the site, including full deployment of native vegetation (with boundary trees to preserve the privacy of Blair Hills residents) and a complete trail system, awaits future funds. Long-range plans envision a connecting bridge from the Scenic Overlook to Ballona Creek and its bikepath on the north side of Jefferson Blvd.
Lenawee Apartment Buildings Sold
Keswick Court, a 60-unit apartment complex at 3902-3920 Lenawee Ave., has been sold. The complex consists of two buildings constructed in 1957. The unit mix includes 12 three-bed/two-bath units, 30 two-bed/two-bath units, eight two-bed/one-bath units, three one-bed/two-bath units and seven one-bed/one-bath units. Site amenities include laundry facilities and a pool. (Note: the complex does NOT include Stonehenge Square, the 12-unit condominium building at 3900 Lenawee at the corner of Wrightcrest.
Jon Melvin has been in email contact with Louis Heilbron representing the new owner. Jon writes: "He is glad to hear about our association. I welcomed him and invited him to the meeting on 4/25. He told me they liked the fact our neighborhood is very stable and look forward to doing a lot of improvements on the apartments (stucco, windows, landscaping)."
In Brief
Blair Hills Musician. Ben Hong, Assistant Principal Cellist of the L.A. Philharmonic Orchestra and a resident of Shedd Terrance, performed to standing-room-only crowds last month in one of three free concerts in the Council Chambers at City Hall.
Blair Hills Email List. This newsletter is issued a few times a year, normally before community meetings. But we also have an email list for announcements of matters of interest to Blair Hills. Only Jon Melvin and Bobbi Gold post messages to this list so you won't be deluged. If you would like to receive these occasional announcements, email your email address to Jon. We promise not to sell your contact information.