Introduction
There are three traffic mitigation proposals on the table with the aim of stopping "cut –through" traffic in the neighborhood during rush hour. In analyzing the problem, Culver City placed counters along Lenawee. Analysis of the data indicates that roughly 1000 commuters use the neighborhood for this purpose between weekday hours of 3-7 PM on weekdays.
This is a problem that concerns all Blair Hills residents. All Lenawee residents in particular, as well as those residents fronting Wrightcrest east of Lenawee, are on the front line of commuter cut-through traffic. Any changes made in the neighborhood will affect us all. Alleviating the pain to some will involve and increase in pain to others. The trick is finding the best balance to all, which is the goal the neighborhood is seeking to find.
It will probably be helpful to print out this map, which is a map of the neighborhood, in evaluating and visualizing each of these proposals (the diagram has been drawn to scale). There are a lot of Blair Hills neighbors that are not even aware of the traffic mitigation efforts under consideration. The intent of this document is in getting those people up to speed as quickly as possible by printing or emailing this Summary. Any suggestions for modifications to this email are most welcome. After all, we are only as strong as our collective thoughts and input. We want to get this right the first time.
The Blair Hills Association has a website located at http://www.blairhills.org. It is a good source of information regarding current events in the neighborhood. Co-president of the Association, Jon Melvin, has created a list-serve where there has been an active and ongoing discussion of issues pertaining to traffic mitigation proposals (as well as other important issues that affect the neighborhood). To get on the list-serve, make your request to do so by emailing Jon Melvin.
Gabe Garcia, Traffic Engineering Manager for Culver City is working with Blair Hills on these proposals. He is extremely approachable and has made himself available by appointment for meetings on request. Mr. Garcia is making it very clear that he is not (and will not) advocate for any specific proposals. It is up to Blair Hills residents to determine what changes are to be made. He is acting as a facilitator and advisor, and is providing advice as to what can and cannot be done in light applicable state and federal laws. This document describes Culver City's NNTP process for helping neighborhoods mitigate traffic.
Proposals
(1) This proposal is depicted in this map. A portion of Lenawee, between Vicstone and Verhalen would become a one way street for northbound traffic. No other one way streets in the neighborhood are indicated in this proposal. Access to La Cienega for cut – through traffic into Blair Hills would have to proceed via Ivy Way to Perham to Wrightcrest (several have voiced their opinion to make this a one way route into the neighborhood), then east on Wrightcrest to La Cienega. The proposal envisions a series of traffic circles and speed cushions to slow the amount of time it takes for commuters. Additional suggestions of speed bumps have been discussed (this defines and describes several traffic calming measures that are available for traffic mitigation efforts).
Analysis:
I have driven this route, assuming that this proposal was in effect (with the addition of numerous speed bumps). Driving the route at 10 MPH, assuming that traffic could move no faster than at this level, the proposal would add less than a minute to La Cienega for cut – through traffic (as compared to the present route taken by cut – through traffic). This is not a significant amount of time to deter cut through traffic. Additionally, Perham residents are adamantly opposed to redirecting commuter traffic up their street. Their significant concerns include the noise of braking and speeding up cars among the obstacles. They also feel that, on a cost benefit analysis, it is diverting the burden from Lenawee residents to them, without any significant reduction in commuter traffic. Finally, it may be difficult to undo changes made to the neighborhood once they are in effect (although it has been represented that modifications can be made on a trial basis for 6 months and then removed if the proposal does work).
(2) This is the simplest of proposals and involves no traffic calming measures, other than as described here. Looking at the map, disregard all proposed modifications. At the intersection of Lenawee and Wrightcrest, signs would be posted that prohibit any turns or access to eastbound Wrightcrest towards La Cienega between the hours of 3-7 PM. This would involve no left turn for traffic heading southbound on Lenawee at Wrightcrest, no right turn for northbound traffic on Lenawee at Wrightcrest, and no through access for eastbound traffic on Wrightcrest from Lenawee. Signs would constitute the only modification in the neighborhood, prohibiting entry to eastbound Wrightcrest from all directions
Analysis:
Statistics, per Gabe Garcia, indicate that 85% of motorists will obey the signs. The remaining 15% will not. That translates to 850 or so motorists scrambling (temporarily) through the neighborhood, on who knows whatever streets, looking for a way back to Rodeo in order to get back to La Cienega. This would probably last a month or two, until the cut – through commuters get it. The 150 other motorists, however, never will. They will be deterred only through sporadic enforcement by the Culver City Police Department, lying in wait at different hours on different days, ready to present them with a welcome to the neighborhood present.
Additional analysis regarding this proposal is combined with analysis of proposal (3), pertaining to issues in common with both of these proposals.
(3) The third proposal is to make access to cut – through traffic through the neighborhood to La Cienega, permanent. This proposal is the same as proposal (2 ) in terms of method of denying access to La Cienega. However, a physical barrier would be installed (a raised curb) on the eastern branch of the intersection of Lenawee and Wrightcrest. The barrier would be a raised, extended curb that would block entry to eastbound Wrightcrest from Lenawee. The curb would extend where eastbound traffic on Wrightcrest would otherwise traverse, blocking access towards La Cienega from the intersection. Westbound traffic on Wrightcrest to the same intersection would not be affected, allowing access into the neighborhood from La Cienega.
Analysis:
For most of the neighborhood, this proposal would permanently block access of most of the Blair Hills residents to an exit of the neighborhood via La Cienega. Permanently. Most residents will have to exit the neighborhood via Overland / Rodeo, only. This will be a particular problem for those that need to exit during rush hour, traveling southbound on La Cienega..
The remaining comments apply to both the second and third proposals:
For the apartments /condos along Lenawee, whether such access is restricted from 4- 7 PM or permanently, the only entry into the neighborhood allowing access to their parking spaces (behind their condos/apartments) would be via La Cienega. Likewise for the five houses on Hollyview Circle, The only upside for these residents is that they all could freely exit the neighborhood either by way of La Cienega or through Blair Hills to Overland /Rodeo.
These proposals, for these residents, would especially pose a problem for those who are commuting home north during rush hour on La Cienega. They cannot turn left (west) at La Cienega and Rodeo to gain entry to their parking spaces or respective homes (access would be blocked at Lenawee and Wrightcrest). As they headed north on La Cienega, they would have to find a way to turn right onto Rodeo once at the interception of La Cienega / Rodeo. They would then have to find an available place to turn around, return to the intersection of Rodeo and La Cienega, and make the left hand turn back onto north La Cienega in order to gain access to their homes. This is the only route that would allow access to their allotted parking spaces. Huge hassle.
On the other hand, some of these residents will no doubt find it more convenient to continue to gain access to the neighborhood through Lenawee. This is inevitable for some, even though they will not be able to access their parking spaces to their homes. Choosing this route, and a certain percentage will certainly do so in order to save time getting to their homes, they will undoubtedly park on Lenawee north of Wrightcrest or on the side streets of Blairstone and Stoneview. This would increase already significant parking congestion in those areas.
Other Considerations
Just Block La Cienega
A sign restricting entrance to La Cienega will not do the trick. When a sign is posted restricting access, there must be a turn-around enabling a driver to see vehicles approaching from 200 ft. in any direction where the turn around is located. There is no possibility of turning onto eastbound Wrightcrest from Lenawee that will allow for a turnaround that complies with this requirement.
Photo Camera Enforcement
This is not an option, although it would be so nice if it was. Cameras can only be installed to enforce running a red light. No other reason, including enforcement of no access to La Cienega. Further, no traffic lights can be installed in our neighborhood.
Gating Our Neighborhood
The reason that this will not work is because we, as a neighborhood, would be required to maintain the streets, repair potholes, repave the streets when necessary, etc. etc.. How can we get the neighborhood to agree to the costs involved?
Fire Department Concerns
Suggestion has been made regarding access of Fire Department access to the neighborhood. They are on board to agree to anything we decide on. They will deal with it. However, we have to recognize the significance of any of our solutions on the response time by the CCFD.
Addendum from meeting with Gabe Garcia, 5/22/2007
Gabe gave three variants of the 3rd proposal, shown in the pictures below. All have the problems of restricting access to the parking for the apartments, and perhaps making apartment parking along Lenawee worse. They are better in that they give more access options to residents on Hollyview Terrace.
Putting up signs with no access into the illustrated block of Wrightcrest (and therefore no access to La Cienega) during the hours 3-7PM is the least invasive mitigation, and might be the first for us to try out. Gabe was not so encouraging about its effectiveness -- he estimated to us that when police are not present, and traffic delays highly motivate cut-through, only about 50% (not 85% quoted below) of cars may comply. But maybe we would be pleasantly surprised.
Again, thank you to Tom. He gave a very objective and complete summary of everything we have been talking about so far.
Gabe's proposals 3a, 3b, 3c [La Cienega on the right, Lenawee on the left, Wrightcrest across the picture, condos below, Hollyview Terrace above toward the north]: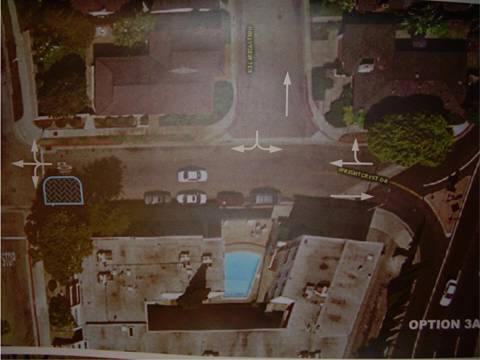 3a – partial barrier from Lenawee into Wrightcrest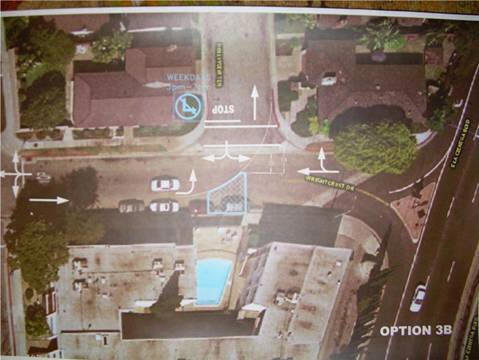 3b – partial barrier across from Hollyview and turn restriction from Hollyview turning east onto Wrightcrest from 3-7PM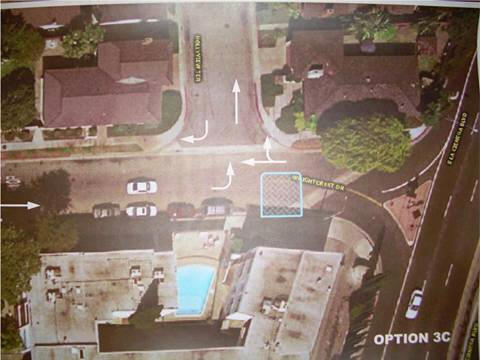 3c – partial barrier nearer to the entrance into Wrightcrest from La Cienega
Gabe Garcia will review our input, determine feasibility of its details, and come back to us with a proposal at our next meeting (about a month from now). Then we decide if we want to try the ideas on a TRIAL BASIS (for a few months). We need to "vote" by mail (he will send a mailing with wording decided by us collectively), and we need 60% yes votes of 1/2 households (including apartments) plus one to take any action at all.
Gabe urged us to try -- it would be a shame to go through a long process (now already 18 months) and then do nothing.
If you have any other questions about the process, please let me know and I'll do my best to get answers.
All our thanks to our neighbor Danny Price who has kept after the city for these 18 months to make sure they do not drop the ball.